An Estate Planning Law Firm
Protecting What's Important
Of Counsel
Serving the Providence & Cranston, RI Areas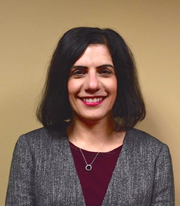 Attorney Ann Marie Maccarone is admitted to practice law in Massachusetts and Rhode Island. Since 1994, she has focused on representing individuals and businesses in real estate, tax, and a wide range of business matters. Attorney Maccarone brings this expertise to the practice of estate planning. She is currently enrolled in the well-regarded Graduate Tax Program at Boston University School of Law to obtain further expertise in estate planning so as to better serve clients.
Attorney Maccarone has served on the board of the Classical High School Alumni Association in Providence, Rhode Island and remains an active alumna. She has also volunteered for her church, animal rescue groups including Pug Rescue of New England, and various non-profit organizations.
She lives in Cranston with her husband, as well as her rescue cat and rescue Jack Russell terrier mix. She enjoys hunting for antiques in her spare time.
Education:
Suffolk University Law School, Boston, MA
JD, cum laude, May, 1994
Providence College, Providence, Rhode Island
B.S., Accounting, cum laude, May, 1984 MBA, May, 1989
Boston University School of Law
Candidate, LL.M, Taxation, Concentrating in Estate Planning
Professional Credentials
Licensed to practice law in Massachusetts and Rhode Island in state and federal courts.
Member Rhode Island Bar Association Title Standards Committee and Probate and Trust Committee. Member Boston Bar Association.